TESTIMONIALS
"SELA DID AN AMAZING JOB!"
SELA did an amazing job! After seven years in our home, this was the third time we had to have our roofing and/or siding replaced due to storm damage. The previous two experiences, we went with local 'mom and pop' companies. Both times we were dissatisfied, for different reasons. While I was hesitant to call a large company like SELA, I could not have been more pleased that we did! The process was seamless and all the staff we worked with were extremely professional. They did a wonderful job on our roof and siding and I am hoping we have no more storm damage in the future. If we do, I certainly know who to call this time!

"TRUSTWORTHY AND REPUTABLE WORK"
Our home had sustained wind damage to the roof. We made an insurance claim and got several subsequent estimates done for the work. We chose Sela because they worked very easily with our insurance claim and because of their reputation (Sela has done multiple projects at my husband's work). Sela was extremely great with communication. I emailed them to set up a time to meet someone and within 30 minutes a Sela representative called me to set up a time. The work was excellent, the cleanup was done well and everyone I talked to was helpful and friendly. I would definitely recommend them and I will use them again for my next project.

"GETS THE JOB DONE"
Our roof needed to be replaced due to storm damage. Sela did an excellent job of working with our insurance agent and getting a price negotiated. They made sure to get our job done the week they promised even when the crew had to work on Saturday. The crew was clean, protected the house well and made sure to keep the roof covered from any rain during the work. Great job.
STORM DAMAGE
IF YOUR HOME HAS RECENTLY SUSTAINED STORM DAMAGE, YOU CAN COUNT ON SELA.
We take the hassle out of insurance claims. As an experienced and trusted contractor, Sela knows the type of information that insurance companies will need to process your claim.  Sela can efficiently identify, help gather, and provide that information to insurance companies.
Why Choose Sela?
Sela has years of

experience working with insurance companies

. Sela has handled thousands of claims like yours. We will explain the insurance claims process in detail.

Sela can handle any type of claim – from a small scratch on siding, to a fallen tree, to a completely new roof.

Sela offers a no obligation first consultation and inspection of your property.

We explain the repair process in clear language so you fully understand the storm damage restoration process.
WORKING WITH INSURANCE COMPANIES
You may be nervous about dealing with insurance companies. Don't be! With Sela, you're not alone. Our unique combination of restoration contracting and insurance recovery experience will help ensure that your repairs are done correctly and on time.
Choose Sela as to help restore your home! You will have hired the region's best contractor to meet with your insurance provider, to assist in processing your storm damage claim, and complete your restoration in a timely and professional manner.
WE WORK WITH ALL INSURANCE COMPANIES
We work with all insurance companies and have a solid reputation for helping to ease the insurance process. We receive referrals from many insurance companies, and are listed as an approved contractor of choice.
A question we often hear is: "Won't my insurance rates go up if I turn in a claim?" In general, a storm large enough to cause hail, wind and/or fallen tree damage will affect a large area; rates go up for the entire state. In that case, your rates will go up whether you turn in a claim or not. Don't accept higher rates and damage that goes unfixed!
OUR MATERIALS ARE GUARANTEED
Sela prides itself on using the best roofing and siding products. We have long-term partnerships with established manufacturers, and the products we use are covered by the manufacturers' warranty.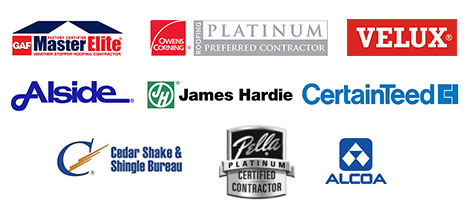 THE RESTORATION PROCESS
The storm damage restoration process begins when a Sela representative visits your property and conducts a thorough analysis of your home. You will then need to contact your insurance company to 1) set up your claim, and 2) give your Sela representative the authorization to meet with your adjuster to discuss the damage. We then prepare a free and complete estimate of proposed work to be performed, and handle negotiations regarding the scope and terms of the bid with your insurance company. You will receive professional and specialized service when contracted, with no headaches from your insurance company!

HELPFUL HINTS
Insurance claims can be confusing and frustrating. The following list should help streamline the process.
Initiate your claim as soon as possible and obtain your claim number. This number will be your primary reference point throughout the process.


Select a reputable contractor like Sela to handle your contracting needs. Your contractor should be 1) experienced in insurance restoration work, and 2) do much of the liaison work between you and your insurance provider.

Most insurance payments occur in two phases. A first check (ACV – Actual Cash Value) is usually released after your insurance provider agrees to the damages. The final check (RCV – total Replacement Cost Value of the entire project) is usually released upon completion of the project.
THE SELA ADVANTAGE
Our number one priority? To restore your home to its pre-storm condition as soon as possible. With Sela, ALL your roofing, siding, soffit, fascia and gutter work is managed with ONE claim and with ONE contractor! You do not have to schedule and negotiate with multiple contractors, saving you time and lowering your stress. You can rely upon Sela to negotiate, and get the best possible settlement to repair the damage to your home.